Biomedical engineering is the application of the principles and problem-solving techniques of engineering to biology and medicine. This is evident throughout healthcare, from diagnosis and analysis to treatment and recovery, and has entered the public conscience though the proliferation of implantable medical devices, such as pacemakers and artificial hips, to more futuristic technologies such as stem cell engineering and the 3-D printing of biological organs. Biomedical Engineering focuses on the advances that improve human health and health care at all levels. Biomedical Engineers differ from other engineering disciplines that have an influence on human health in that biomedical engineers use and apply an intimate knowledge of modern biological principles in their Engineering design process. Biomedical Engineering, B.E graduate program was initiated in the year 2015. The highly motivated, qualified and experienced faculty and the energetic students work together extensively to build interdisciplinary knowledge in the areas of Medicine, Molecular and Cellular Biology, Microelectronics and Engineering. The Department has well experienced faculties in teaching, research as well as industrial sector. The Department is well equipped with Biomedical Lab facilities, Clinical and Instrumentation software facilities, State of art & Infrastructure. The Department of Biomedical Engineering follows choice-based credit system. The Conference, Seminars, Workshops, Symposiums are conducted by the Department regularly. The Students are encouraged to attend workshops, conference, seminars in and outside the state. The students of the department won many prizes in competition conducted in and outside the state.
Laboratories
The List of laboratories of Biomedical Engineering Department as per the curriculum as follows
1.Biomedical Instrumentation Laboratory
Scope:
Biomedical Instrumentation Laboratory focuses on basic training and handling of Biomedical Instruments.
Major Instruments
Audiometer
Patient Monitor
Ventilator
Blood pressure Monitor
Spirometer
2.Diagnostic and Therapeutic Laboratory
Scope:
The Diagnostic Therapeutic Laboratory focuses on recording on bio signals and measuring the vital parameters of the body. In this lab students get trained on various diagnosing, monitoring and therapeutic instruments
List of Major Instruments
Electrocardiograph
Electroencephalographs
Electromyograph
Pacemaker
Defibrillator
3.Pathology and Microbiology Laboratory
Scope:
The pathology and Microbiology Lab focuses on
Clinical specimen, including urine, blood, as well as possible tissue. The work here is mainly concerned with cultures, to look for suspected pathogens which, if found, are further identified based on biochemical tests.
Haematology works with whole blood to do full blood counts, and blood films as well as many other tests.
Coagulation requires citrated blood samples to analyse blood clotting times and coagulation factors.
Clinical Biochemistry usually receives serum or plasma. They test the serum for chemicals present in blood. These include a wide array of substances, such as lipids, blood sugar, enzymes, and hormones.
Immunohematology - determines blood groups, and performs compatibility testing on donor blood and recipients. It also prepares blood components, derivatives, and products for transfusion. Regulated by the FDA since giving blood is considered a drug, this unit determines a patient's blood type and Rh status, checks for antibodies to common antigens found on red blood cells, and cross matches units that are negative for the antigen.
Urinalysis tests urine for many analytes. Some health care providers have a urinalysis laboratory, while others don't. Instead, each component of the urinalysis is performed at the corresponding unit. If measuring urine chemicals is required, the specimen is processed in the lab.
Electron microscopy prepares specimens and takes micrographs of very fine details by means of Microscope.
physiology - examines organs, limbs, eye, brain, and other bone models
4. Sensors and Measurements Laboratory
Scope:
The Sensors and Measurement Laboratory focus on
Measurement of basics of transducers like pressure transducer, temperature transducer, capacitive transducer etc.
The Measurement of various physiological parameters using Bio – chemical and Bio- sensors.
5. Microprocessor and Microcontroller Laboratory
Scope: The Microprocessor and Microcontroller Laboratory focuses on
Study of Architecture of 8085 and 8086 Microprocessor
Study of Assembly language programs of 8085 and 8086.
Study on interfacing devices like LCD, Keyboard, Stepper Motor.
Study on 8051 Micro controller and its applications and assembly language.
6. Digital Signal and Image Processing Laboratory
Scope: The Digital Signal Image Processing Laboratory focuses on
The basic image pre - processing on medical and clinical images
Study of signal processing techniques like sampling, quantization, filtering etc
Study of Image processing techniques and Image enhancement techniques of medical images.
7. Electronic Circuits Laboratory
Scope:
The Electronic Circuits Laboratory focuses on
Analysis and study of rectifiers
Study of amplifiers and its types
Study of oscillators
Study of timers
8. Analog and Digital Integrated Circuits Laboratory
Scope:
The Analog and Digital Integrated Circuits Lab focuses on
Study of operational Amplifiers
Study of digital circuits and logic gates
Study of filters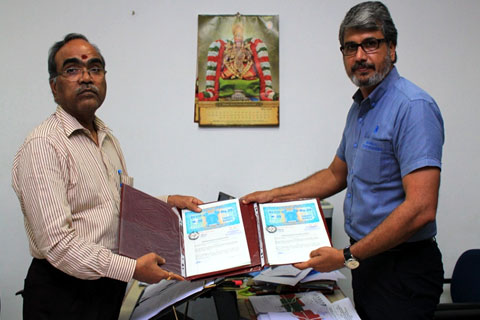 Memorandum of Understanding
Vels Institute of Science Technology and Advanced Studies – Biomedical Engineering Department has signed Memorandum of understanding with the leading companies, hospitals and institutions such as:
Sri Ramachandra Medical College MoU signed on November 2016
Bio Vision Medical Systems MoU signed on March 2017
National Institute for Empowerment of people with Multiple Disabilities MoU signed on April 2017
Dr. Kamakshi Memorial Hospital MoU signed on October 2017
Barola Technologies MoU signed on April 2018
NIKMED Medical Technologies MoU signed on August 2018
AMS Solutions Inc MoU signed on August 2018
VITAL Bio-systems Pvt. Ltd MoU signed on October 2018