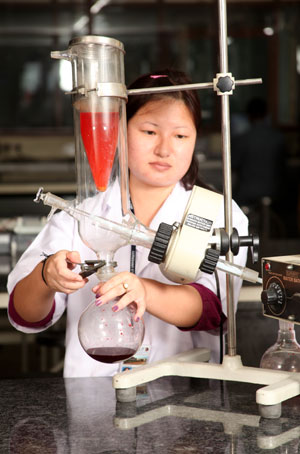 School of Basic Sciences (SBS), which was established and start functioning in the year 2008, comprises of three major departments namely Chemistry, Physics and Mathematics. The vision of the School is to provide high quality teaching and remarkable research to make an impact in worldwide. The School provides UG programmes in Chemistry, Physics and Mathematics and PG Programmes in Chemistry and Mathematics. The curriculum retains abreast of the latest advancements in the respective areas, keeping in mind the current industrial needs is being supported by the state-of-the-art laboratories to provide hands-on experience and endeavours to develop scientists of high quality as the syllabi are framed/ revised by Board of Studies with members drawn from repute institutions like IITs, University of Madras, Anna University and Industries. Outgoing students find employment through campus interviews as well as by direct contact and the School provide exposure to the students to prepare effectively for professional employment or research degree in national and International level. The School also offers M.Phil and Ph.D. programmes in all the disciplines on a full-time/part time basis.

The School consists of qualified, enthusiastic energetic young faculty in Chemistry (14), Physics (9) and Mathematics (21), who are experts in their research fields, evident from their publications and research funding, many are pioneers in their fields after long years of research experience both in India and abroad in repute organizations. Faculty members mobilize funds towards research through sponsored projects from funding agencies such as DST, SERB, MES, DRDO, MHRD-IMPRINT, TNSCST etc. Currently, the School have ongoing projects to the tune of Rs. 1.65 crores, successfully completed several projects to the tune of Rs. 66.16 lakhs and also submitted projects to various funding agencies to the tune of Rs. 1.50 Crores.

The School publishes over 420 research articles on emerging areas of Chemistry, Physics and Mathematics in well reputed National and International peer reviewed journals. Faculty members of the School have published and filed National and International Patents. The School is equipped with necessary instruments in association with Central Instrumentation Laboratory (CIL), VISTAS for research and also offers services to other institutions as well. The School is periodically organizing International/National conferences, seminars and workshop to bridge the gap between industrialists and academicians.
Organic Chemistry
Organic Chemistry is a discipline within chemistry that involves the scientific study of the structure, properties, composition, reactions and preparation (by synthesis or by other means) of hydrocarbons and their derivatives. Organic chemistry, like all areas of science, evolves with particular waves of innovation. These innovations are motivated by practical considerations as well as theoretical innovations. The course impart knowledge in the basic concepts of organic chemistry, reagents and reactions enable the retro synthetic strategies for synthesis of novel molecules training in separation technology using chromatographic methods for isolation and purification of organic compounds, training in analysis and characterization of molecules from synthetic and natural products.
Pharmaceutical Chemistry
Pharmaceutical Chemistry is a discipline at the intersection of chemistry and pharmacology involved with designing, synthesizing and developing pharmaceutical drugs. Medicinal chemistry involves the identification, synthesis and development of new chemical entities suitable for therapeutic use. It also includes the study of existing drugs, their biological properties, and their quantitative structure-activity relationships (QSAR). Pharmaceutical chemistry is focused on quality aspects of medicines and aims to assure fitness for the purpose of medicinal products.
Analytical Chemistry
Analytical Chemistry is the study of the chemical composition of natural and artificial materials. The contributions made by analytical chemists have played critical roles in the sciences ranging from the development of concepts and theories (pure science) to a variety of practical applications, such as biomedical applications, environmental monitoring, quality control of industrial manufacturing and forensic science (applied science).
The combination of pharmaceutical and analytical chemistry gives a wide focus on the synthesis of drugs and studying their properties through characterization by analytical techniques.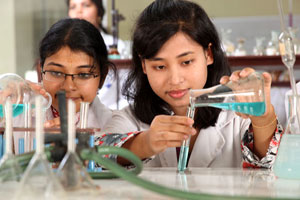 Industrial Chemistry
Industrial Chemistry The Department also provides M.Sc course on Industrial Chemistry and Management, which is an interdisciplinary course that blends both Chemistry and Management Science. Industrial Chemistry and Management applies principles of chemistry in the large-scale manufacture of different elements and compounds and also extraction of metals. Because of the diversity and complexity of chemical processing, a broad study gives a powerful approach of wide usefulness in designing new manufacturing process. This course also includes management related subjects like HR, Marketing and Finance, which can be applied into the industry. This prestigious industry oriented course is offered at PG level with well-equipped laboratory.
Nanoscience and Nanotechnology
Nanoscience and Nanotechnology is fast growing areas of Science and Technology which span the entire spectrum of science and technology including next generation electronics, engineering materials, advanced materials and coatings, devices, computers, medicine, textiles, sports equipment, polymers, biology, agriculture, food science, etc. The M. Sc programme in Nano science is attractive to those students who wish to gain the skills and experience, required to join the new generation of researchers in the field of Nano science and Technology. It adopts an integrated, multidisciplinary, intellectual strategy, with contributions from physics, chemistry, biology and engineering. This programme will cover a broad range of disciplines to enable the trained graduates to make an objective judgment of the scientific importance and technological potential of developments in micro- and nanotechnologies and to perform a range of activities related to Nano science and Nanotechnology. The study programme thus prepares the student to take the conventional challenge not only at national needs in diverse areas of Nanoscience and nanotechnology but also to continue toward advanced studies anywhere in the world.
List of Selected Equipment for Research Purpose
CH Instruments Electrochemical Workstation & Cyclic Voltametry
Horizontal Tubular Furnace
Battery Tester
Branson Sonifier
Muffle Furnace
UV-Vis spectrophotometer
Digital pH meter
Digital potentiometer
Digital conductivity meter
Impedance Analyser