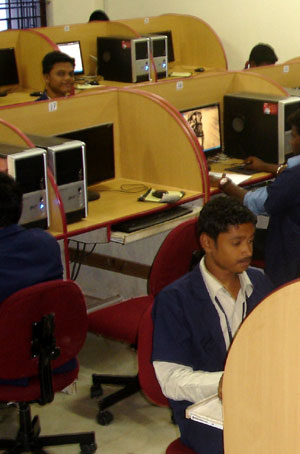 The application of computers in the modern world is unlimited. Computers are extensively used in research and development, besides their routine use in commerce. As the use of computers is manifold, the demand for trained professionals is also increasing.
Openings for computer trained graduates are too many and fast expanding. In order to meet the above, the department has separate laboratory facilities for UG and PG Courses with the latest requirements and a well connected local area network as a back bone. Apart from it, separate Unix and Windows-NT servers are provided to quench the thirst of the students. In order to upgrade the students' knowledge with the changing environment, a separate online internet accessing facility is provided. To achieve individual attention, each student will be provided during the practical hours at a basis of one man-one machine.
The School is equipped with a separate hardware laboratory to solve the purpose of assembly language programming which includes microprocessor trainer kits and interfacing devices. To interact with the global environment, periodic inter-universities, seminars and symposia are conducted. For the benefit of outgoing students, the institution's placement cell has tied up with some of the leading software houses for conducting regular campus interviews.
The School provides well furnished infrastructure facilities like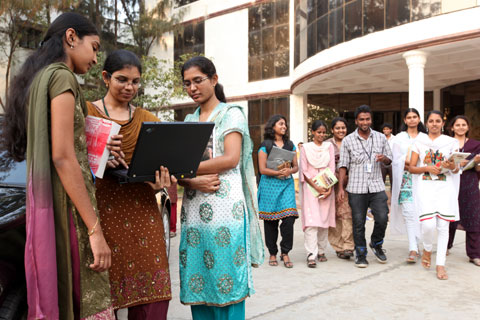 Spacious Classrooms

Nearly 13,000 e-journals are available in our Department Library

WI-FI Facility

Laptop for all the PG Students and staff members

Our Lab is equipped with P-IV IBM Systems with all facilities and networked perfectly

Specialized Kits available for Digital and Microprocessor Lab

Internet Facilities for both Staff and Students available

Practical classes are taught through LCD Projectors

Spacious Seminar hall with Multimedia LCD projectors

Campus Interviews are conducted annually
Software Details
Microsoft License for Operating System and MS-Office – 75 Users

Adobe Creative Site

Corel Draw

MATLAB

Visual Studio (60 Users)

Oracle 11G Processor License