Vels School of Hotel & Catering Management is one of the leading catering institutes in India offering Under-graduate, Post-graduate, Diploma and several certificate courses in Hotel and Catering Management and is pledged to train promising men and women in specific fields such as cookery, bakery, food & beverage service, front office, accountancy, house-keeping management and allied topics.

The Hospitality Management program is specifically designed for individuals desiring to enter the hotel and hospitality field and who are aspiring for a management career in this industry.

The program offers students an academic education together with vocational core competencies. This carries considerable value and prestige with employers worldwide. It can also benefit people looking to obtain the necessary specialized knowledge when thinking about being an entrepreneur.

Throughout the program, virtues, such as discipline, punctuality, ethics and hygiene are encouraged as they are highly valued throughout the world and count as much as academic and practical skills in ensuring a successful profession.

This program provides students a unique advantage of working in a wide variety of fields which includes star hotels, cruise line (ship) catering, flight catering services, the service sector including banks, hospitals, in event management, facilities management and a plethora of other areas which affords them excellent careers. In today's declining economy, a career in the Hospitality Industry would be a very intelligent choice for any aspiring student.
The School is associated with the following professional bodies:
Federation of Hotel & Restaurant Associations of India

South India Culinary Association

Indian Federation of Culinary Association

The World Association of Chefs Society

Hospitality Educators & Recruiters Association
There are four core departments in hotel management namely Food Production, Food and Beverage Service, Front Office and Accommodation Operations.
1. Food Production comprises of the following
Basic Training Kitchen
Here the students are introduced to the basic principles of cookery and are trained to cook food for 2 portions. The students of the first year degree and diploma train in this kitchen and generally the cuisine taught would be French.
Quantity Training Kitchen
The students of the second year degree and diploma are trained in this kitchen. It is here that the students are taught to prepare food in bulk quantities. The cuisine is commonly Indian, though it does concentrate on other global cuisines as well.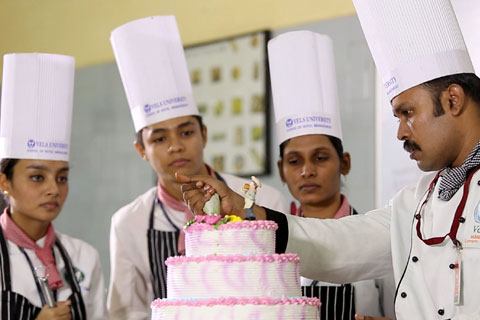 Advance Training Kitchen
The students of the final year use this kitchen. The advanced level in cookery is taught and practiced here. Cuisines like Mexican, Chinese, Thai, and Mediterranean are prepared and skills like Ice carving, Vegetable carving, Tallow carving, etc. are imparted to the students.
Bakery
The students in this kitchen are trained to make different varieties of dough's, breads and cakes in their practical hours.
Confectionery
This is an air-conditioned room to train students in wedding cake decorations, sugar work, chocolates and a host of cold dessert preparations.
2. Food & Beverage Service
There are two restaurants, which are air-conditioned and has the capacity to train nearly 100 students at any given time. The students are taught the fundamentals of various restaurant services in the first year and in the second year. They are also taught about alcoholic beverages and their proper service. In the final year they are instructed on how to manage the restaurant operations.
3. Front Office
In this department students are trained to organize, perform and evaluate the front office functions that are critical to the success of a hotel and taught to handle the diverse procedures of front office operations and management.
4. Accommodation Operations
The University has a guest house furnished with single and a double rooms similar to the standards of five star deluxe hotels for the students to train in the art of bed making and room cleaning. This department also has a practical lab and a laundry for the students to learn laundry services and flower arrangements.