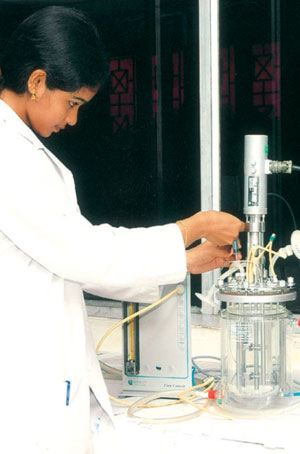 The School of Life Sciences comprises of Department of Microbiology, Department of Biotechnology, Department of Bioinformatics and Department of Biochemistry.
Department of BioChemistry
The Department of Biochemistry, School of Life Sciences was started in the year 1993 under the affiliation of University of Madras. The Department has well equipped laboratories, advanced research facilities, sophisticated services and computing and networking capabilities. The Department does exceedingly well in the fields of higher education, research and industrial consultancy. Strong expertise exists among the highly qualified faculty on both theoretical and experimental methods of research.
Courses Offered
B Sc. Biochemistry
M.Sc. Biochemistry
Ph.D.
The academic programmes are based on the choice based credit system as per UGC regulations. Each Programme comprises several core, elective courses, field visit and project work.
Add on Course
The Department also offers a two year Diploma in Medical Lab Technology course (conducted by Bharat Sevak Samaj) duly approved and certified by the Planning Commission, Government of India, assuring students with 100% Placement.
About Research Programmes
Ample opportunities are provided for research-minded students to work on their research skills and participate actively in pioneering research studies through Ph.D and M.Phil programmes. The faculties along with their scholars do active research in frontier areas, which often results in highly acclaimed publications in International and National Journals and patents. Most of the research work is presented in International and National conferences.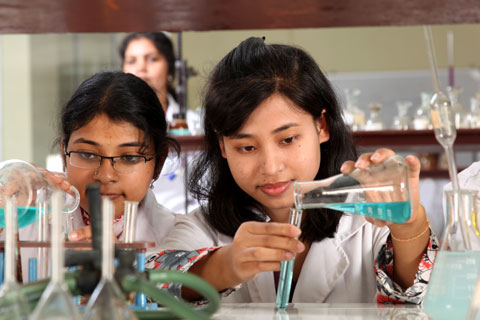 Research Areas
Biochemical, toxicological and pharmacological evaluation of the efficacy of plants, active constituents and plant based nano particles.
Preclinical evaluation of bioactive constituents for disorders and diseases like cancer, ulcer, rheumatoid arthritis, diabetes.
Biochemical and molecular characterization of microbial enzymes of industrial importance.
Insights into the mechanism underlying neuropathophysiology and its amelioration employing phytochemicals.
Placement
We have 100% job placement record. Students have no trouble finding coveted positions in reputed corporate companies that visit the campus every year, offering an excellent salary package on par with international standards. Candidates interested in career options other than clinical diagnostics shall also be assisted in pursuing their interests. Placements has been obtained earlier from reputed corporates include Cipla, Alkem, Orchid, Pfizer, Ranbaxy, DRL etc.,
Department of MicroBiology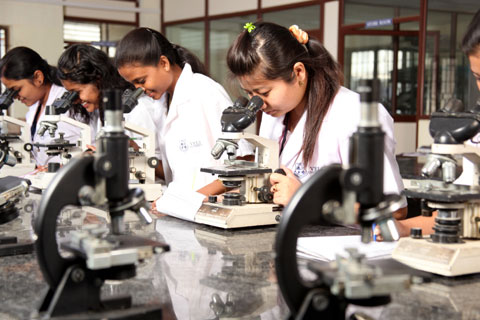 Microbiology is the study of micro organisms, which are of immense importance to mankind. This branch of science gives its practitioners, the opportunity to be in contact with all other natural sciencesand thus contributing in many ways to the betterment of human life. The laboratories are fully equipped with all the instruments needed with a competent faculty. This branch of study makes it possible to diagnose most of the infectious diseases precisely.
Separate laboratories are provided for both UG and PG students. Isolated working spaces have been provided to perform Mycology, Virology, Bacteriology, Immunology and Molecular biology experiments. All basic instruments necessary to carry out microbiological works are available. Apart from this, certain specific instruments like Phase contrast microscope with photo micrographic equipment, Dark field microscopy, Refrigerated high-speed centrifuge, ELISA washer & reader, Electrophoretic equipments, Biological safety cabinets – one class 1 & other class 3 are also available. Advance instruments like Fluorescent Microscope, UV-spectrophotometer, Gel documentation system; PCR, CO2 incubator, Batch fermentor and HPLC can be utilized at the common laboratory.
Department of BioTechnology
Biotechnology is the fastest growing applied science of this century. It can be simply defined as the fusion of Microbiology, Biochemistry and Engineering in an integrated fashion and is aimed at using micro-organisms and cells to manufacture useful products.
The Biotechnology boom is due to Genetic Engineering, which gives the power of inserting foreign genes into an organism by the scientists. This insertion of foreign gene enables us to get desirable traits, without transferring other genes and their desirable traits. Genetic engineering can provide more effective innovations to the society ranging from pharmaceutical products, new approaches to energy generation, food production, pollution control, diagnosis, therapy of genetic disorders.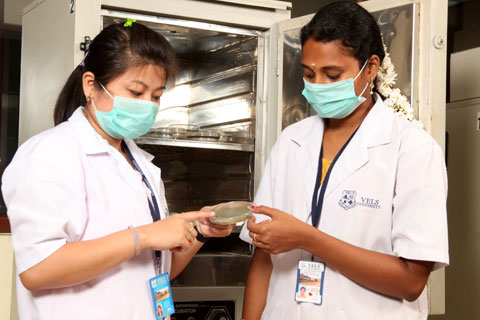 Biotechnology with a wide application and forceful advantages, is now being adopted virtually by every industry including pharmaceutical industry, textile industry, environmental clean up, household products, food processing and forensic science. Biotechnology also offers insights into new branches such as Bionics, Proteomics and Bioinformatics which will be a fusion of Information Technology and Life Sciences.
Our graduates and post graduates students enjoy a stimulating learning environment where their interest and passion can be explored to them fully.
PCR technology Lab

DNA sequencing Lab

Plant Molecular Biology Lab

Animal Tissue Culture Lab

Fermentation Technology Lab

Phytochemical extraction Lab

Molecular Genetics Lab, etc.
MoU with 4 Square Technologies Solutions
Department of Biotechnology and 4 Square Technologies solutions signed a MOU for training Life Science students in Clinical Research and Medical Coding.
Vels University, Department of Life Science, Pallavaram have signed an MOU with, 4 Square Technologies solutions a well-established Training, Certification and Placement, providing Medical coding & Clinical research professionals and became a beacon in the Health Care industry revolution. To benefit the Graduates of life Science Students and get updated about the industry and employment relevant opportunities into the curriculum of Biotechnology.
The MOU was signed by Dr.P.Govindarajan, Registrar, Vels University and Mr.B.Selvamuthukumar, Director of 4 Square Technologies Solutions. This MOU will provide the students and additional certificate along with their UG Course and make them industry ready and provide their potential employability.
Department of Bioinformatics
Bioinformatics is the science of developing computer databases and algorithms for the purpose of speeding up and enhancing biological research. The Department of Bioinformatics was started in the year 2002 to facilitate the teaching and research in the interdisciplinary areas of Structural Bioinformatics and Computational Genomics, and to create an intellectual environment for interdisciplinary education and training. The department has a well-equipped lab consisting of latest IBM machines loaded which complete bioinformatics workbench coupled with high speed Broad band internet connection, enabling effective use of biological software for research purposes. The Department is comprised of well experienced faculty members with research interests and expertise in Structural Biology, Molecular Modeling, Computer Aided Drug Design, Pharmacogenomics, Cheminformatics, Molecular Biology, Genetic Engineering, Genomics, Proteomics, Bio-computing, Database & Software development. Moreover, the students can access hundreds of scientific journals on their lab desktop, subscribed by the university, which is essential for project work and subsequent Publication.
List of Selected Equipment for Research Purpose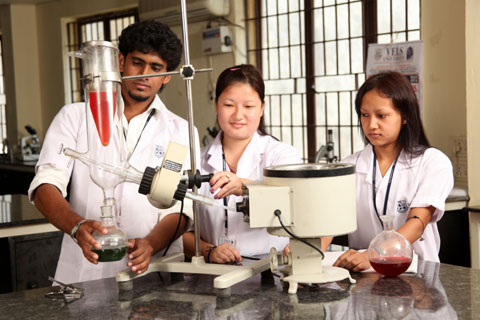 Analytical Electronic balance

Cooling centrifuge

ELISA Plate reader & ELISA Washer

Cooling Incubator

CO2 Incubator with regulator

Cooling centrifuge C-24

Centrifuge R24

ELISA reader

Fermentor

Metler Balance

Thermocycler

UV Spectro Photometer

LCD

Hybridization Oven

Inverted Microscope

Rotating Vaccum Flask Evaporator

Microscope Olympus