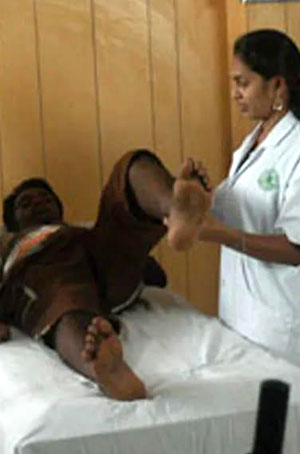 Physiotherapy education is designed to serve the needs of a paramedical vocation established within a biomedical paradigm. Today physiotherapy has achieved an autonomous professional status in many countries.Physiotherapy, a dynamic science, is an integral part of Modern Scientific Medicine. It is a drugless therapy and has a major role in prevention and medical rehabilitation of the physically handicapped. The profession is receptive to change and welcomes the increasing focus on rehabilitation within the modernization of healthcare. Emphasis is placed on the development of practical skills and treatment techniques built on sound theoretical and research base. Department of Physiotherapy was incepted in the year 1993 under Vel's College of Physiotherapy and now has been brought under University.
Infrastructure Facilities:
The School is well equipped with all modern amenities on various therapeutic laboratories, a Research laboratory with EMG and Treadmill facilities, a well established Anatomy museum with all soft parts and cadaver for the dissection of students.
The School has a plan to own a free physiotherapy clinic for the poor and needy with all modern amenities. This provides an excellent in house training programme during their period of study. Apart from the in house training programme are sent to reputed hospitals like Sundaram Medical foundations – Anna nagar, AG Hospital – Tambaram, Soundarapandian Bone & Joint, Isabel Hospital, NIEPMED – Muttukadu, Indian Red cross Society – Egmore, Noble Hospitals – Purasaiwakkam, Right Hospitals - Chetpet, and Kumar's Ortho Clinic – Chrompet. This training programme not only improves the depth of knowledge but also provides skills to the student so as to be competent in the techniques and develop proper attitude required for the practice of Physiotherapy.
Job Opportunity
After successful completion of 4 year study & 6 months training programme, the student will get opportunity in Hospitals. Fitness center, Rehabilitation centre, Healthcare center, Teaching profession and abroad opportunity etc. He/She can practice physiotherapy independently. He/She can be an Ergonomic advisor in schools. Soft ware companies and Automobile Industries etc.,
Dissertations
Every candidate presenting himself for the examination shall submit 3 copies of dissertation not exceeding 2500 words based on the results of his own study on all the important investigation carried out by him/ his under the guidance of a recognized guide.
List of Selected Equipment for Research Purpose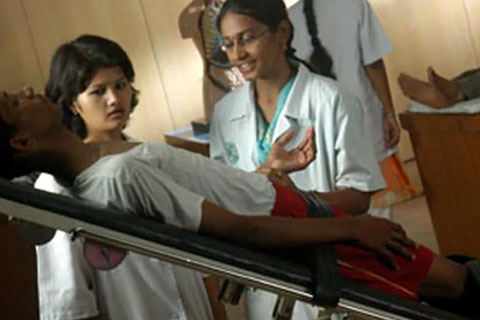 Algometer
Arm Ergo meter
Continuous passive Mobilizer
Digital Inclinometer
Diagnostic Muscle Stimulator
Emg Biofeedback
Hand Evaluation Kit
Humidifier
Interferential Therapy
Incentive Spirometer
Inflatable Bolster
Laser
Multi Station
Nerve Conduction Velocity Testing
Nebuliser
Pelvic Goniometer
Pulse Oxymeter
Peak Flow Meter
Splints
Trampoline
Ultrasound Therapy
Wedge